click to enlarge
In honor of CALC's 50th anniversary, we decided to coordinate a new youth mural in CALC's front yard under the theme of "50 years of social justice struggles". We recruited a diverse group of teens, who came together for one week to reflect on the theme and create a mural that powerfully portrays positive social change.
In addition to empowering youth, this project resulted in an emotionally compelling (and truly beautiful) mural. This mural, in the heart of Eugene's historic Whiteaker neighborhood, will be viewed for years to come by thousands of people, who will be reminded again and again that activism is integral to Lane County's vitality and future. The youth have titled their mural "People's Resistance".
Here's the kids hard at work on the mural: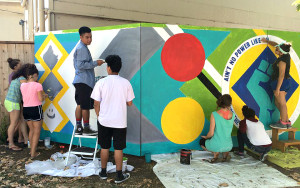 And check out youth muralist Sammy Flores at the mural debut, giving a moving speech about what this project means to all of those who worked so hard on it:
---
This project was made possible by financial contributions from the Eugene Human Rights Commission and the Oregon Country Fair. We would also like to thank Red Barn Natural Grocery, Forrest Paint Co., Eugene Emeralds, Lane Transit District, Sundance Natural Foods, and New Day Bakery for their generous donations.
Many thanks also go out to adult volunteers Johanis Tadeo, Larry Dobberstein, Judith Hankin, Lucas Brinkerhoff, Sasha Tuckey, and Pam Woodell. We would especially like to thank our volunteer Mural Coordinator Extraordinaire, Jessilyn Brinkerhoff at Wild Cloud Creative– THANK YOU!!
---