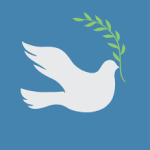 CALC's Truth in Recruiting Program offers annual Peace Scholarships. These scholarships are our tangible commitment to offer an alternative to enlisting and a pathway for college. We hope these scholarships will be an incentive for students to think about a non-military career path. CALC promotes the idea that peace is powerful, effective, and relevant, and each year we ask applicants to explore the concept of peace as an alternative to war. Truth in Recruiting will be present at the end-of-the-year award ceremonies of the awardees' high schools.
The 2017 Peace Scholarship will be released soon. The 2016 Peace Scholarship application can be viewed here.
For more information, contact Carol Van Houten at ckvanhouten@comcast.net.
Please consider donating to our scholarship fund to steer our youth towards a better future. Thank you so much for your support!