By Michael Carrigan.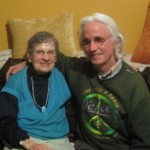 My dear friend, fellow activist, and mentor Peg Morton passed away on Saturday, after a full and inspiring 85 years.
She was an activist extraordinaire. She devoted her life to many causes but I know Peg best through working together on the Hiroshima Day Commemoration, as part of Taxes for Peace Not War and by supporting her Latin America solidarity work. She was a generous and stalwart CALC supporter and she always had my back.
Check out last Mondays' Register Guard article for more details about her extraordinary life. In addition, you can read and hear the sweet interview Rachael McDonald had with Peg two weeks before her passing. Finally, see the article on Peg in the Eugene Weekly.
A website has been set up for folks to memorialize her life and work.
Peg was a driven activist but she knew how to have fun. She loved to sing and she loved to party. We spent time camping together at Scott Lake and drinking beer with one another at Sam Bonds. I loved watching her perform in the Raging Grannies.
Of course, Peg was also a devoted mother and grandma. She was the complete package.
You can find out more about Peg by reading her autobiography. We have copies of her book at CALC. The office is open Wednesday the 23rd, but is closed Christmas Eve through New Years day. The book is also available at Tsunami Books.
Peg chose to end her life on her terms. Scott Miksch of LASC put it beautifully when he said about Peg: "She made the ultimate personal sacrifice. By ending her life, Peg has freely given up the resources that could have been used to keep her alive longer than she felt was justified, or just. Now those resources can be put to what she decided was a better use: to make a better world."
I will miss Peg. She will remain in my heart forever and will continue to inspire me to work for peace and justice.
Peg Morton: ¡PRESENTE!
Michael Carrigan
Update 1/21/15: See photos from Peg Morton's celebration of life here.