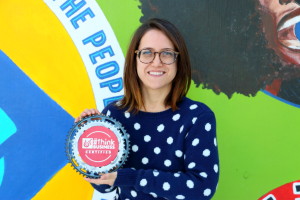 CALC has been awarded certification from BRING's RE:think Business program for taking steps to reduce waste and save resources!
Since March of 2016, we've been working one-on-one with a sustainability management expert. Through BRING's RE:think Business program, CALC has identified and achieved several conservation measures, including improvements to our recycling, composting, and energy management systems.
Our mission is to advance peace and justice, and at CALC we believe that environmental responsibility is critical to that mission. We're so proud to be recognized by BRING for our sustainability efforts. We've always been passionate about recycling here, but BRING's consultant showed us how to take it even further, with minimal effort and zero expense – in fact, we're saving money on our energy bills!
#REthinkBusiness