"

I

wanted to help support CALC's track record in networking with other organizations for peace and justice.

I

was proud of our anti-hate rallies, war tax resistance, Hiroshima Commemoration, the photo exhibits, and the partnerships with Occupy and the homeless camps." – Jain Elliot, CALC Board Secretary, on why she joined the CALC Board.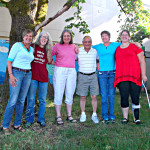 Interested in joining the CALC board? You'll gain valuable leadership experience, and you'll make a difference in your community. We're especially hoping for more representation from communities of color. Email
calcoffice@gmail.com
for more information.