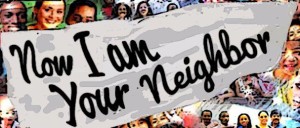 Now I Am Your Neighbor, an original play telling the true stories of courage, hopefulness and resilience of Lane County immigrants, will be produced as a staged reading at the Very Little Theatre Stage Left, 2350 Hilyard St., Friday and Saturday, September 22 and 23 at 7:30 p.m. and Sunday, September 24 at 2 p.m. ASL interpretation is available at the Sunday performance.
Produced by CALC, in partnership with Minority Voices Theatre (MVT), the stories, generously shared, were woven together in a creative narrative by local playwright Nancy Hopps. Directed by Carol Dennis with original music by Ricardo Cardenas, the play will be produced as a staged reading by readers who are immigrants themselves or very close to the immigrant experience.
Our readers include Isabel Smythe, Rosie Hernandez, Antonio Ochoa, Alex Reyna, Alex Aguilar, Stephanie Sarnoff, Brett French, Bill Campbell, Berri Hsiao, Ken Wong, Retoyia Ole Ronkei, Ibrahim Alessa.
A community discussion will follow the one-hour performance. The play is also accompanied by the recently updated "We Are Neighbors" photography exhibit, which celebrates immigrants living in Lane County.
Tickets are available at the door only, with a suggested donation of $5- $25. For more information, contact CALC at 541.485.1755 or calcpeace@gmail.com
About CALC




Community Alliance of Lane County, or CALC, has been working since 1966 to create a more just and peaceful community.  We seek to collaborate with organizations, institutions, government and individuals to bring about lasting change.
We address root causes of oppression by seeking to change attitudes, behaviors, and policy through education, activism, and cultural means.
We challenge ourselves and others to address privilege and power, to work collaboratively as effective allies, and help build leadership, especially for dis-empowered and marginalized people.
We work with and for a multi-racial, multi-class, multi-gendered, multi-generational movement on social justice issues and projects.
Please visit the links below to explore our program work and see where you can help:
---
Historical and long-term work
The 1966 mission of CALC was to mobilize opposition to the Vietnam War. Over forty years later, CALC continues to challenge militarism, but has deepened our mission to educate and mobilize for peace, human dignity and social, racial and economic justice.
Transitioning from a predominantly white peace group to social justice organization with diverse leadership and membership has been our journey. Our experienced activists find themselves mentoring, supporting and aiding organizers and new activists, including youth.  We work to build collaborative networks and allies, with a focus on groups historically kept apart and advance the social justice movement by addressing root causes, the connections between pathways of oppression and the importance of working with allies.
---
We are located in Eugene, Oregon and work primarily in Eugene, Springfield and outlying rural areas. We have paid program and administrative staff, a volunteer Board of Directors and Advisory Council, steering committees, and hundreds of other volunteers and interns that donate thousands of hours of service every year. We work closely in collaboration with area grassroots organizations, non-profits, and educational organizations. We are a 501(c)3, non-profit organization.
---